Bill & Bob from Susybee features a couple of duck best friends.



Alphabetosaurus from Robert Kaufman includes this panel and a couple of other cute fabrics.


Watercolor Blossoms is a new line of batiks from Robert Kaufman


Andover's Moonstone by Laundry Basket Quilts



Story Time by American Jane from Moda includes many fabrics and this cute panel.



Jungle Paradise by Moda. Book panel and stuffed toys panel are part of the line.

Black Cat Capers by Northcott. The panel in this set makes this cute apron and mitts.


Tochi by Moda. This line has a beautiful kit available.

Beautiful Winter's Grandeur by Robert Kaufman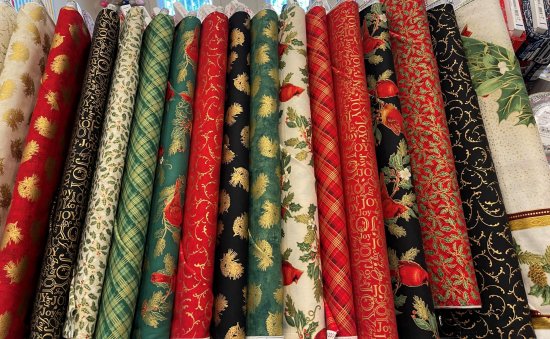 Santa Paws and Grinch Christmas fabrics.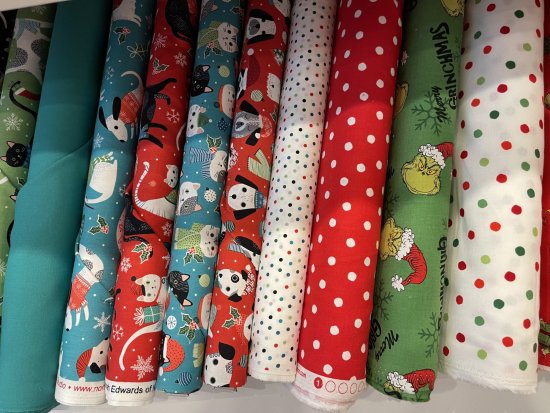 Essential Heroes by Studio E


A beautiful new metallic, In the Moonlight by Robert Kaufman


Kitty Corn by Moda


Boudoir by Moda



Ombre Squares, a new blender by QT Fabrics.

Witchful Thinking by Blank Quilting


Need a quick and convenient way to hang your quilts?
We now have Classy Clamps, in two colors and sizes!


Check out this beautiful, versatile new line of blenders from Blank: Chameleon



This gorgeous line of
"Sky" from Robert Kaufman
brings ombres into a beautiful new light. A truly versatile and unique fabric line!