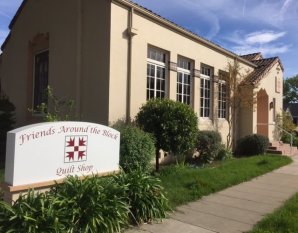 Friends Around the Block Quilt Shop
211 8th Street, Colusa
(530)458-7467(PINS)
FOLLOW US ON INSTAGRAM!
@friendsaroundtheblock
Join Our Email List!
If you would like to stay informed about special sales, new classes, and upcoming events, email us a request at:
friendsaroundtheblock@outlook.com.
New Shipping Rates (and some are FREE!)
We are happy to announce that Friends Around the Block is offering our online shoppers FREE SHIPPING for all orders over $100. We have also reduced our rates for smaller orders to a flat $5.00 charge. While you are online, be sure to check out what's new, and our special sale items. Thank you for visiting Friends Around the Block online!
For those of you who prefer to shop in person, we are OPEN with regular hours, Covid precautions, and curbside service.

Quilts Around the Block


Thank you, participants!



THANK YOU,
PARTICIPANTS!!!
All of you: The quiltmakers, local residents, visitors to our community, business owners and Colusa's good old-fashion community spirit made our
Quilts Around the Block event a huge success!
Together, we succeeded in creating
a free-of-charge outdoor quilt display for all to enjoy. Thank you for joining us
in
celebrating the art and craftsmanship of quiltmaking. Be sure to visit our Instagram @friendsaroundtheblock and our FaceBook page for pictures!