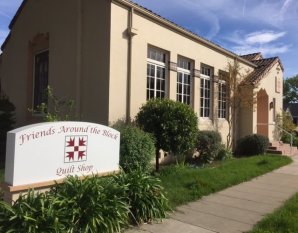 Friends Around the Block Quilt Shop
211 8th Street, Colusa
(530)458-7467(PINS)

Join Our Email List!
We send emails about once or twice a month to keep customers informed about special sales, new classes, and upcoming events. If you would like to be added to our list, email us a request at:
friendsaroundtheblock@outlook.com.
If you are not getting our emails, please be sure to check your SPAM or Junk file in case a message landed there.


Don't forget to check out WHAT'S NEW!

Welcome to
Friends Around the Block!
Friends Around the Block is a friendly neighborhood quilt shop located in Colusa, California. Our store offers premium fabrics, helpful sewing notions, high quality quilting supplies, and fun classes for quilters of all skill levels. We invite you to come see us in person where you may shop, browse for ideas, or let our experienced staff help you with your latest projects. Be sure to check back often for product updates, special sales, store news and the latest quilting trends. Thank you for visiting our website.
Summer with FRIENDS!
Whether you are local or visiting, we'd love to see you this summer. Travelers are often surprised at how close we are to Interstate Hwy 5 (less than 10 minutes!) and the Sacramento River (literally 2 blocks away!). If you are traveling on Highway 20, you will pass right by us. Please stop in to check us out.

If you live locally, we hope you will make the "trip" to visit us, cool off in our shop, and see what's new. Don't forget that we have free Sit 'n Sew every Friday that we don't have classes scheduled. Wishing you all a safe and happy summertime!