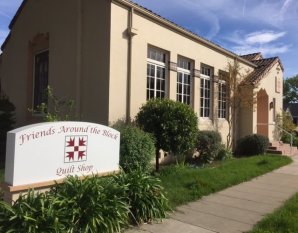 Friends Around the Block Quilt Shop
211 8th Street, Colusa
(530)458-7467(PINS)

Holiday Deadline for Quilting Services

In order for us to have your quilts ready in time for Christmas, you will need to bring them to Stephanie by October 1st. Thank you.

Join Our Email List!
We send emails about once or twice a month to keep customers informed about special sales, new classes, and upcoming events. If you would like to be added to our list, email us a request at:
friendsaroundtheblock@outlook.com.


If you are not getting our emails, please be sure to check your SPAM or Junk file in case a message landed there.



Welcome to
Friends Around the Block!
Friends Around the Block is a friendly neighborhood quilt shop located in Colusa, California. Our store offers premium fabrics, helpful sewing notions, high quality quilting supplies, and fun classes for quilters of all skill levels. We invite you to come see us in person where you may shop, browse for ideas, or let our experienced staff help you with your latest projects. Be sure to check back often for product updates, special sales, store news and the latest quilting trends. Thank you for visiting our website.
Quilts for Fire Victims



Friends Around the Block is collecting quilts for fire victims in Lake County. If you have any finished quilts you would like to donate, please bring them to the shop. We will be collecting them and taking them to Kerrie's Quilting in Lakeport where they will be distributed to families in need. There is no deadline, but the sooner the better. Thank you!
12 Days of Christmas
Be sure to mark your calendars for the 12 Gifts of Christmas Shop Hop. We will have two days of demonstrations, each shop having three different ones at their stores. No passport required.
When: November 9 and 10, during regular store hours.
Where: Friends Around the Block, Colusa
Honey Run and Rabbit Hole, Chico
Quilt Corral, Willows
Sew Smart, Los Molinos