Skip Navigation
Website Accessibility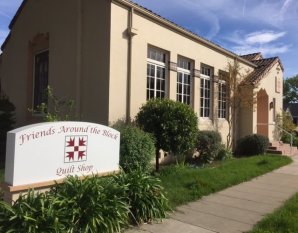 Friends Around the Block Quilt Shop
211 8th Street, Colusa
(530)458-7467(PINS)
FOLLOW US ON FACEBOOK!
friends around the block
Join Our Email List!
If you would like to stay informed about special sales, new classes, and upcoming events, email us a request at:
friendsaroundtheblock@outlook.com.




















Block of the Month Shop Hop
Coming in January!

We have an exciting new event coming in January! It's a shop h
op block-of-the-month!
There are 11 shops participating. Each month, you will go to a different shop to pick up your fabrics to make this spectacular sampler quilt. It's a great size quilt at 80 1/2" x 100 1/2".
What an exciting opportunity to see new shops and visit old favorites one at a time. Sign up with your friends and make a fun day out of it each month.
All the details are on the flyer below.