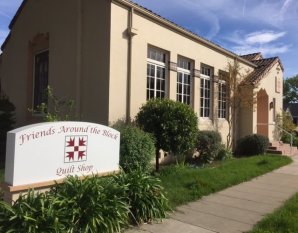 Friends Around the Block Quilt Shop
211 8th Street, Colusa
(530)458-7467(PINS)
Join Our Email List!
We send emails about once or twice a month to keep customers informed about special sales, new classes, and upcoming events. If you would like to be added to our list, email us a request at:
friendsaroundtheblock@outlook.com.
If you are not getting our emails, please be sure to check your SPAM or Junk file in case a message landed there.
Don't forget to check out WHAT'S NEW!
Welcome to
Friends Around the Block!
We are a friendly neighborhood quilt shop located in Colusa, California. Our store offers premium fabrics, helpful sewing notions, high quality quilting supplies, and fun classes for quilters of all skill levels. We invite you to see us in person where you may shop, browse for ideas, or visit our
Online Store
. Either way, our experienced staff is happy to help you with your latest projects. Be sure to check out
what's new
,
and our
special sale items
. Thank you for visiting Friends Around the Block online!
Colored Elastic, Mask Panels & Nose Clips



In a hurry to make some adorable masks? Our new panels make it fast and easy! We have two different panels, each with a variety of designs to add color and spunk to your daily mask wardrobe. Also, we just got a shipment of colored elastic, AND nose clips for a perfect and stylish fit!