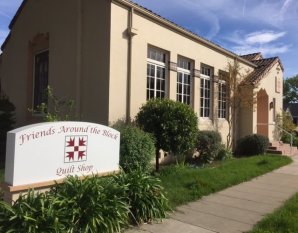 Friends Around the Block Quilt Shop
211 8th Street, Colusa
(530)458-7467(PINS)
Join Our Email List!
We send emails about once or twice a month to keep customers informed about special sales, new classes, and upcoming events. If you would like to be added to our list, email us a request at:
friendsaroundtheblock@outlook.com.
If you are not getting our emails, please be sure to check your SPAM or Junk file in case a message landed there.

Don't forget to check out WHAT'S NEW!
Welcome to
Friends Around the Block!
Friends Around the Block is a friendly neighborhood quilt shop located in Colusa, California. Our store offers premium fabrics, helpful sewing notions, high quality quilting supplies, and fun classes for quilters of all skill levels. We invite you to come see us in person where you may shop, browse for ideas, or let our experienced staff help you with your latest projects. Be sure to check back often for product updates, special sales, store news and the latest quilting trends. Thank you for visiting our website.
Doors Temporarily Closed
But Our Phones Are OPEN!
In cooperation with Governor Newsom's Directive and our local health commissioner, we are closing our storefront temporarily until further notice. We plan to reopen as soon as possible. Also, stay tuned for our ONLINE shopping options!

Please note that classes for March and April have been cancelled or rescheduled. Call the shop or check our website for the most current information.

We hope you are all well, and able to use this "shelter-in-place" time to work on some projects. We are going to miss you! Above all, we want you and your families to stay healthy!