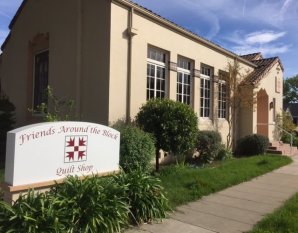 Friends Around the Block Quilt Shop
211 8th Street, Colusa
(530)458-7467(PINS)
FOLLOW US ON INSTAGRAM!
@friendsaroundtheblock
Join Our Email List!
If you would like to stay informed about special sales, new classes, and upcoming events, email us a request at:
friendsaroundtheblock@outlook.com.
Quilt Rush 2021
IT'S HAPPENING! Quilt Rush 2021!
We are excited to be back and hope everyone will be able to come out to see us!
Details about the event are HERE.

Wed, May 12, 2021 at 9:00 am to 5:00 pm
Thu, May 13, 2021 at 9:00 am to 5:00 pm
Fri, May 14, 2021 at 9:00 am to 5:00 pm
Sat, May 15, 2021 at 9:00 am to 5:00 pm
Sun, May 16, 2021 at 10:00 am to 4:00 pm for Passports/Goodies only. Shop closed on Sunday.


Challenge Quilt Winner!



We are happy to announce that Janet Grimmer was the winner of the Virginia Read Watership Down Quilt Challenge. We love having Quilts Challenges! We are inspired by the participants, and we love displaying their work.

Here is a picture of Janet and her spectacular quilt.



Our next challenge is the Friends Around the Block Anniversary Challenge, happening this October. Keep an eye out for details this August.