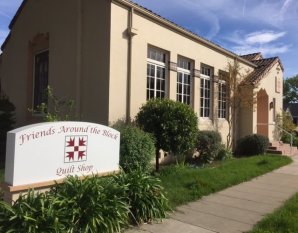 Friends Around the Block Quilt Shop
211 8th Street, Colusa
(530)458-7467(PINS)
FOLLOW ON INSTAGRAM!
@friendsaroundtheblock
Join Our Email List!
If you would like to stay informed about special sales, new classes, and upcoming events, email us a request at:
friendsaroundtheblock@outlook.com.
Are you on our QUILT MAP for March 20? Look for the red circles for display sites. Call or email us to join the display for Quilts Around the Block!

New Shipping Rates (and some are FREE!)
We are happy to announce that Friends Around the Block is offering our online shoppers FREE SHIPPING for all orders over $100. We have also reduced our rates for smaller orders to a flat $5.00 charge. While you are online, be sure to check out what's new, and our special sale items. Thank you for visiting Friends Around the Block online!

For those of you who prefer to shop in person, we are OPEN with regular hours, Covid precautions, and curbside service.

Quilts Around the Block


"A Beautiful Day in the Neighborhood"



Friends Around the Block announces
Quilts Around the Block,
an outdoor quilt event in our Colusa neighborhoods. We are inviting local residents to participate by simply displaying quilts in their front yard or window from 10:00 to 4:00 pm on March 20th,

National Quilt Day.

Together, we will create a free-of-charge outdoor quilt display!

We are adding more addresses every week as residents sign up.


Quilts may hang on fences, porch rails, in windows, or whatever works for your neighborhood. Please join us in
celebrating the art and craftsmanship of quiltmaking. Click HERE for more information about the event.